A collection of dog news from around the internet--
A paralyzed pooch is able to walk again, thanks to the help of
some colorful braces and a pair of crocs!
A pup named
Midnight has become something of a hero
in the aftermath of superstorm Sandy. Having survived hurricane Katrina some years past, Midnight was adopted into a family in Manhattan, and probably never suspected that she'd come face-to-face with nature's fury again. Midnight carried groceries, water, and other goods to people stranded in apartment buildings after the storm. What an amazing pup!
An early Christmas miracle has helped out a neglected pup
taken in at a Mississippi shelter. The poor pup, dubbed "Chris" for Christmas, was in very poor shape and the shelter would not be able to afford all of the care that he so desperately needed. After reporting this fact on Facebook, the donations started pouring in. Soon, all his medical care was paid for and there was plenty of food for him and others. He is now gaining weight and getting better by the day!
I report quite often on dog heroes, but here is a story about some everyday heroes.
Firefighters saved a pup from a house fire in Winnipeg
. This happens every day, but it isn't often that our First Responders get the recognition that their heroism truly deserves.
Another story about the power of social networking--
Facebook helped to reunite a dog owner with her pup
. When you know how to use these tools, you can make some really amazing things happen.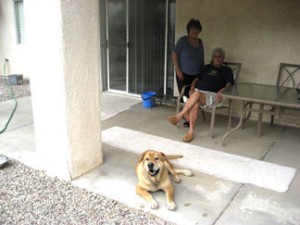 After
leaping out of the car at a freeway rest stop,
chow/shar pei mix Chico has been reunited with his family. This pup has been missing since October 25th! It is truly remarkable that they were able to be reunited after such a long stint on the road.
A pup from Philly who started out life as a bait dog
, is now a therapy dog helping with grief counseling, and visiting children in the Ronald McDonald House. Vivian is also the ambassador for
New Leash on Life,
a prison pet training program, similar to Purdy's
Prison Pet Partnership
. These are great programs aimed at teaching skills and reducing recidivism, and they really work for dogs and humans both!
Enjoy the rest of your weekend, guys!
-Hope