We met Harry yesterday, when we found him rolling around downstairs! This fluffy little mutt might be related to any of the dogs we had in here that day-- he's a cute little mix of everything. Even though he weighs less than a pound and is probably the size of a guinea pig, we could tell that Harry belonged with the big guys.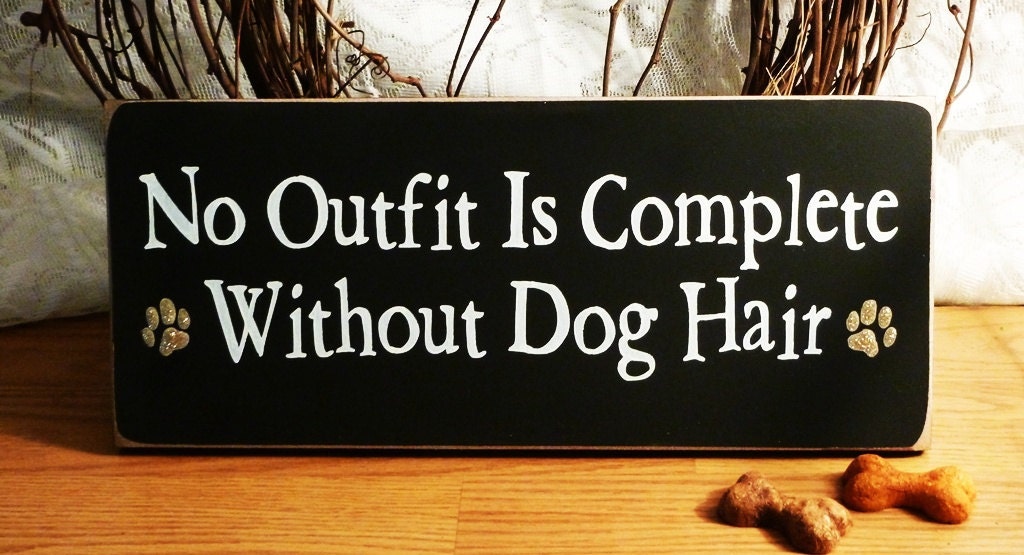 Especially true when your pup has both black and white hair- some for every shirt!
He was a calm little guy, only getting very active when other dogs tried to play with his loose fluff. After I noticed the pups getting a little too exuberant, I swept him up and brought him up front for his photo. Harry is a constant battle here at the Fort--no matter how many times he gets picked up and put where he belongs, he just shows up again in all the strangest places! Under the fridge, on and under carpets, even sometimes right back on other dogs! Still, it wouldn't be Doggie Daycare without a few like him here each day.
I need this doormat for my house! Lol
Haha, hope that you enjoyed this little exposé--
Hope

Now that might be going too far!
P.S.--In case you haven't had enough of hair jokes, here are ten reasons that your dog's haircut costs more than yours.
10. Your hairdresser doesn't wash and clean your rear end.

9. You don't go for 8 weeks without washing or brushing your hair.

8. Your hairdresser doesn't have to give you a sanitary trim.

7. Your hairdresser doesn't have to clean your ears.

6. Your hairdresser doesn't have to clean boogies from your eyes.

5. You sit still for your hairdresser.

4. Your haircut doesn't include a manicure or pedicure.

3. Your hairdresser only washes and cuts the hair on your head.

2. You don't bite or scratch your hairdresser. (I hope not anyway).

And the Number 1 reason your dog's haircut costs more than yours....

1. The likelihood of you pooping or peeing while your hair is being cut is extremely slim.