An injured marine is trying to
adopt the military service dog that was her part
ner
, before the Corps puts him down. Former Corporal Megan Leavey and her partner Rex hunted for IEDs in Iraq during two tours of duty, and were both severely injured when one exploded near them. New York Senator Charles Schumer has taken up their cause, and is trying to hurry up the bureaucratic red tape associated with adopting former military working dogs.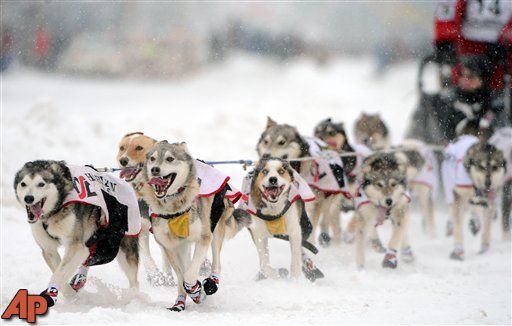 Aliy Zirkle has taken the lead in the Iditrarod
. If she wins, she will be the first woman to have done so since 1990. There's still a lot of race left, so who knows what is going to happen?
This weekend at the CenturyLink Field Event Center, you can go check out the
74th annual Seattle Kennel Club Dog Show.
In addition to the "best in show" conformation competition, there are agility, rally, and obedience competitions.
At the Westminster Dog Show, there is an annual
"dogs only" art auction
. This year, two price records were broken--"Dejeuner," a painting that shows dogs and cats eating from a large dish, set a record for the artist, William Henry Hamilton Trood, when it sold for $194,500. That record was broken an hour later when Trood's "Hounds in a Kennel," showing a half-dozen dogs staring at a bird outside their cage, sold for $212,500.
At the London Olympics,
working dogs are to play key anti-terror roles
. Passive bomb-sniffing dogs are gearing up for the massive crowds expected to descend on London for the Olympics later on this year. Passive sniffers are trained to be constantly on the alert, rather than sniffing dogs that are given a command to search luggage or persons.
A list of the
top ten dog breeds in Seattle
was published by the AKC. The top ten are Labrador Retriever, Golden Retriever, French Bulldog, German Shepherd, Poodle, Yorkshire Terrier, Cavalier King Charles Spaniel, Boxer and Bulldog tied for ninth, and Havanese in tenth place.
Enjoy the rest of your weekend!
-Hope